We recently had the opportunity to review another homeschooling product as part of The Old Schoolhouse's Review Crew.
This time, it was
CapJaxMathFax
and I was very excited to have a computer "game" for the kids to try. One of my children is usually Math reluctant, and so I was excited to have something to encourage her to master those facts!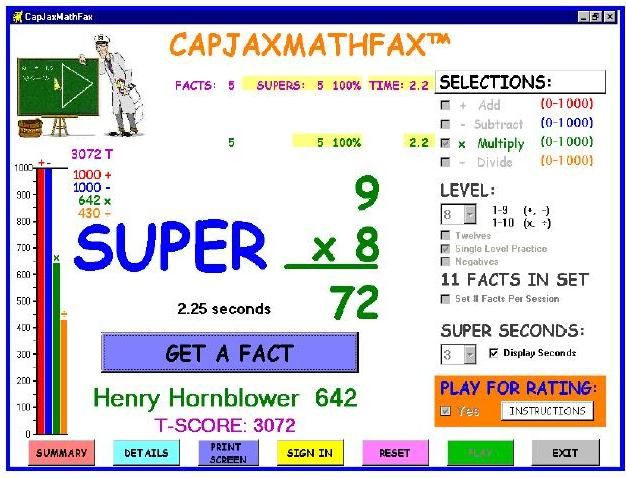 From the website:
CapJaxMathFax™ system has controls that allow small-step goal-setting so progress is evident and guaranteed.
Take a look at our PDF flyer CapJaxMathFax At A Glance



Uses a computer to provide drill and practice so that practice time is not limited by teacher availability.
Automatically generates exercises. Teachers don't prepare quizzes. They merely provide the parameters for them.
Builds exercises for any of the four math tables (addition, subtraction, multiplication, division) or any combination of tables.
Guarantees student success by taking small steps through levels of
difficulty.
Can focus practice at a single level of difficulty or may review earlier levels.
Randomly generates problems without repetition.
Allows variable numbers of problems in an exercise.
Reduces learner stress by timing facts individually.
Provides immediate positive feedback for correct answers.
Provides extra reinforcement for fast, correct answers.
Displays an overall performance report at the conclusion of each exercise.
Prints reports for teacher review and for use as certificates of achievement.
Displays and prints item diagnostic details.
Uses a rating system that allows students to keep personal scores and
set goals.
Charts student rating progress graphically.
Maintains a database of student activity over time.
Our Experience:
Unfortunately,
CapJaxMathFax
was not a hit in our home. From the first time we played the games to the last, it was a challenge to get my kids to play again. One frustration was that the feedback noise for a correct answer is actually the noise our Mac uses when you've mis-keyed. So, in other words, though my children were, in fact, answering correctly, the sound was telling them they were answering incorrectly.
Another thing we disliked was the overly busy screen (see top image), which we found difficult for a child to navigate. While I think the kids would be able to navigate all the buttons and options over time, they didn't want to take the time to learn. As one child stated, "I don't even know where to look to begin!" Add that to the fact that the screen didn't fully enlarge to fill our computer monitor, and it was very discouraging. Though there are lots of colors and font shapes/sizes, the kids found the graphics very basic and lost interest in them quickly.
As their teacher, I did really like how I could set the parameters of the game. From which facts they'd be quizzed on (all four are options: addition, subtraction, multiplication, and division), to the time allowed to answer, to the number of facts to answer. It was great to be able to take time for a longer game, or to sneak in a game in a shorter time span.
Despite the fact that this program didn't work for our family, I do believe it would be helpful in a family with a child who is easily distracted by other online games with fancy webpages, story lines, etc. It's definitely worth trying out the
Free Trial
to see if it would work for your family!
The Nitty Gritty:
Age Range: Any age who needs to work on math fact mastery
Price: $29.95, with Merit Badges being an additional $4.00

Disclaimer: As a member of the TOS Crew, I received this product, at no cost to me, in exchange for my honest review. All opinions are my own.